Welcome to Mala Vecindad, the first Beer Hotel in Latin America.
We have light beer, dark beer, goldens, lagers, IPAs, and Porters. We have kegs, jugs, cups, mugs, crowlers & growlers. We also have rooms, a restaurant, mexico-extravagant food, shared spaces, art déco architecture, 40's décor, and the best service.
Above all, we have a mission: to rescue our beloved neighborhood, one beer at a time.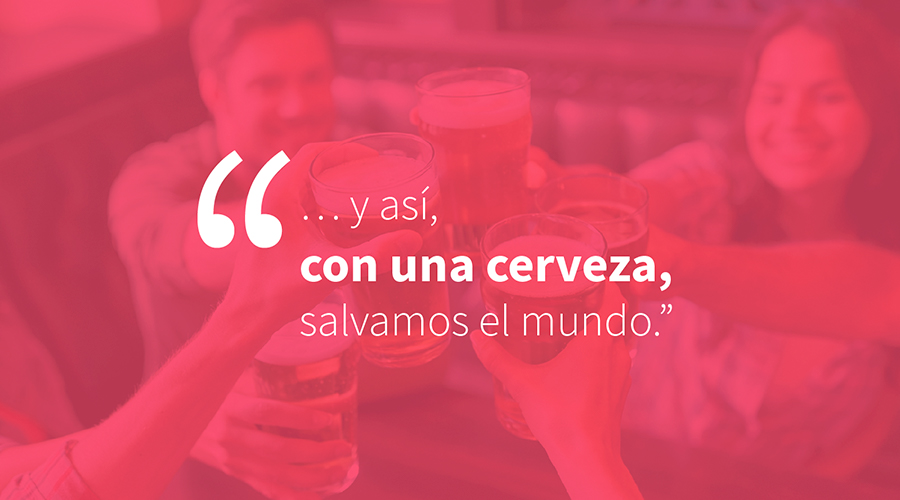 Beer Hotel
To make beer an extraordinary experience.
At INMENSE HOTELS we are good (some would say extraordinary) hoteliers, and one day (after a few too many pitchers) we had the idea of a hotel where you could feel the warmness of friendship and have a beer with your breakfast.
Necessary to create a Beer Hotel was finding the best brewers and boy did we find them! Drinking partners, it turns out we have a lot more in common with Primus than he had imagined. The delicious beer happened to have an incredible business trajectory.
Our Rooms
SUSTENTABLE DÉCOR
Mala Vecindad is all about second chances, about rescuing from oblivion and abandonment, about giving a new life to the old and forgotten. Our furniture, as the building itself, is recycled. We worked with local upholsterers and carpenters to reuse the existent furniture, just as we worked with local blacksmiths to recover the building's ironwork and the classic art deco decorations.
We search to keep and reproduce the same aesthetic from the 1940's when the hotel was at its best. We combine our history with our passion: beer. The result was a unique style, as unique as we are.
If you care to know more about our hotel's history, you can ask our staff to relate all the anecdotes and stories. Order a beer, a tour of the facilities and find out all the rescue work behind Mala Vecindad.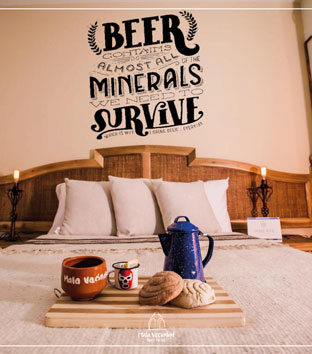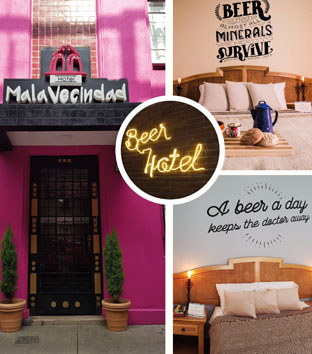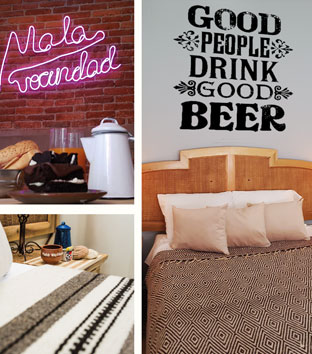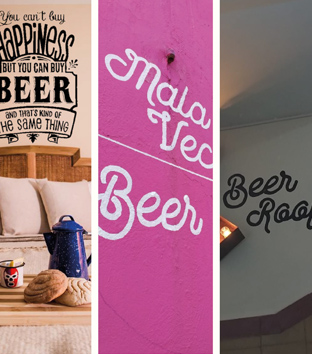 Our neighborhood
We are very proud to be from here because our neighborhood is not just any neighborhood. This is the place where Che Guevara and Fidel Castro stayed in the 50's when Tabacalera and Buenavista were suburbs full of life.
With Mala Vecindad, we strive to return to the golden years of our community by boosting the local economy; by attracting tourism we are planting a barley seed so we can improve the image of the area and the life of the families that call Tabacalera and Buenavista their home.
The closeness to tourist landmarks such as Down Town Mexico City, Chopo Museum, Alameda Central, the Monument to the Revolution, and Fronton Mexico, makes our neighborhood the ideal place for guests craving to explore the city, and at the same time enjoy the local lifestyle, the street stands, groceries stores, and small family businesses.
Contact
Let's have a beer together.
Booking
Address
B. de Sahagún 27-33,
Colonia Buenavista, C.P. 06350,
Ciudad de México
Our passion for hospitality dates back to many generations. We learned the value of an unforgettable experience almost a century ago when, in the year of 1930, we took over the administration of Casa Mitzi, a one-of-a-kind residency which as of today, would be encompassed under the Bed & Breakfast concept.
With the passage of time, our passion for generating experiences was consolidated and drove us to establish at the beginning of the year 2000, Casas y Hoteles de México; an innovative development in the touristic branch at the time, managing antique properties to genteelly provide unique moments for our guests.
Our project's success was overwhelming, boosting us to generate an international presence and securing us as proficient creators of memorable experiences. Finally, in the year 2017, we decided to direct all of our accomplishments unto a brand that would represent our values with a promising future ahead: INMENSE HOTELS.

Ideology
As a hotel chain we pursuit to create indelible experiences. Our hotels hold an unequaled and astonishing design that in collaboration with our special gastronomical approach and incomparable personalized service, makes each and every single stay an authentic life experience.
We believe simple establishments to be uninteresting. That our customers take away from their sojourn a brand new concept of how life should be is what we feel impassioned about. From the spectacular room décor to the intricate flavor of the breakfast, we wish for our guests' stay with us to be filled with amazing occasions.
Sustainability and remaining local are two main axes over which our hotels are grounded. We are genuinely concerned about the environment, and we compromise with our community. Both of this elements firmly nurture our mission of entrusting the quintessence and aura of each destination where we are located.
At INMENSE HOTELS we change the lodging archetypes, ensuring the nascence of memorable experiences in extraordinary spaces.
Memorable Experiences
Hundreds of bells chime, and before the sensation of astonishment for a place unexplored by your eyes and senses makes full presence, you get momentarily apprehended to the bed by the sheets. Exquisitely you make yourself way to the window near you, and as soon as you open it, a fine breeze fills up the room and a fascinating food aroma is detected by your nose. Avidly, you search for the origin of the scent but seconds later you realize that it's part of the air and all along you've been enchanted by the landscape.
You are entirely besotted with the life of the place, you are living a memorable experience.
To have the satisfaction of creating moments like that, capable of becoming an introduction to a distinctive concept of life, is our specialty. We develop the perfect environment where, is thanks to our facilities, services, and attention that you will naturally live unconditionally the essence of a destiny.
We want for you to feel that you've gotten to know Cholula with just a taste of our version of cemitas, that whilst venturing to enter to the Casona Santosí, you travel far and across San Luis Potosi's History. In short, we aim for you to ascertain a brand new perspective on life, for you to then be able to fully live an unforgettable experience.