Welcome to Mala Vecindad, the first Beer Hotel in Latin America.
We have light beer, dark beer, goldens, lagers, IPAs, and Porters. We have kegs, jugs, cups, mugs, crowlers & growlers. We also have rooms, a restaurant, mexico-extravagant food, shared spaces, art déco architecture, 40's décor, and the best service.
Above all, we have a mission: to rescue our beloved neighborhood, one beer at a time.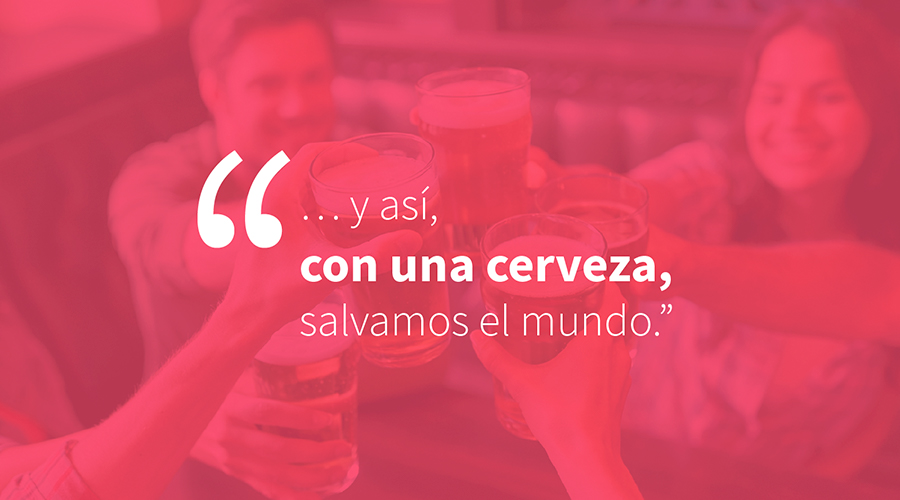 Beer Hotel
To make beer an extraordinary experience.
At INMENSE HOTELS we are good (some would say extraordinary) hoteliers, and one day (after a few too many pitchers) we had the idea of a hotel where you could feel the warmness of friendship and have a beer with your breakfast.
Necessary to create a Beer Hotel was finding the best brewers and boy did we find them! Drinking partners, it turns out we have a lot more in common with Primus than he had imagined. The delicious beer happened to have an incredible business trajectory.
Our Rooms
SUSTENTABLE DÉCOR
Mala Vecindad is all about second chances, about rescuing from oblivion and abandonment, about giving a new life to the old and forgotten. Our furniture, as the building itself, is recycled. We worked with local upholsterers and carpenters to reuse the existent furniture, just as we worked with local blacksmiths to recover the building's ironwork and the classic art deco decorations.
We search to keep and reproduce the same aesthetic from the 1940's when the hotel was at its best. We combine our history with our passion: beer. The result was a unique style, as unique as we are.
If you care to know more about our hotel's history, you can ask our staff to relate all the anecdotes and stories. Order a beer, a tour of the facilities and find out all the rescue work behind Mala Vecindad.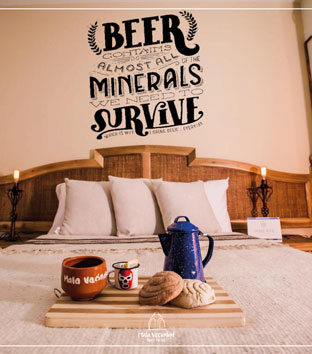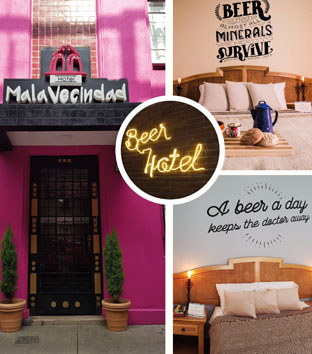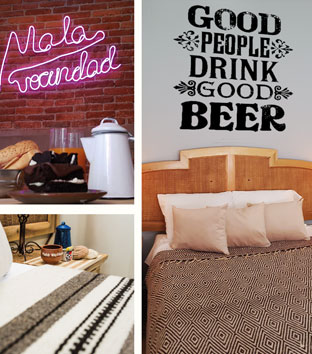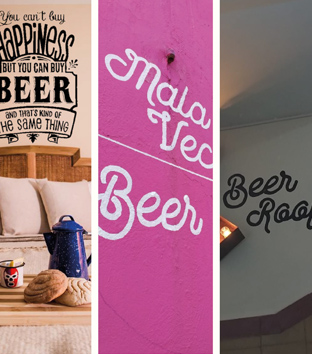 Our neighborhood
We are very proud to be from here because our neighborhood is not just any neighborhood. This is the place where Che Guevara and Fidel Castro stayed in the 50's when Tabacalera and Buenavista were suburbs full of life.
With Mala Vecindad, we strive to return to the golden years of our community by boosting the local economy; by attracting tourism we are planting a barley seed so we can improve the image of the area and the life of the families that call Tabacalera and Buenavista their home.
The closeness to tourist landmarks such as Down Town Mexico City, Chopo Museum, Alameda Central, the Monument to the Revolution, and Fronton Mexico, makes our neighborhood the ideal place for guests craving to explore the city, and at the same time enjoy the local lifestyle, the street stands, groceries stores, and small family businesses.
Coworking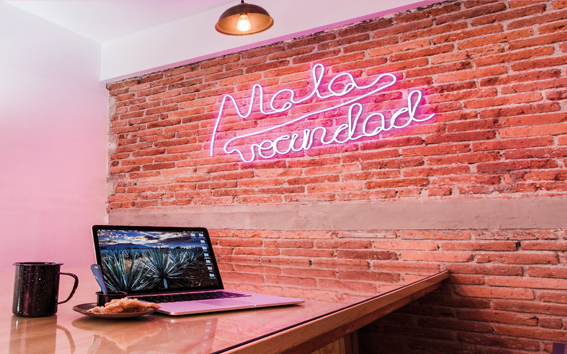 Coliving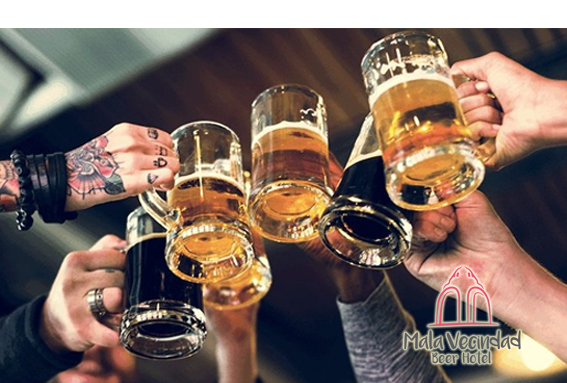 Contact
Let's have a beer together.
Booking
Address
B. de Sahagún 27-33,
Colonia Buenavista, C.P. 06350,
Ciudad de México
Our passion for hospitality dates back to many generations. We learned the value of an unforgettable experience almost a century ago when, in the year of 1930, we took over the administration of Casa Mitzi, a one-of-a-kind residency which as of today, would be encompassed under the Bed & Breakfast concept.
With the passage of time, our passion for generating experiences was consolidated and drove us to establish at the beginning of the year 2000, Casas y Hoteles de México; an innovative development in the touristic branch at the time, managing antique properties to genteelly provide unique moments for our guests.
Our project's success was overwhelming, boosting us to generate an international presence and securing us as proficient creators of memorable experiences. Finally, in the year 2017, we decided to direct all of our accomplishments unto a brand that would represent our values with a promising future ahead: INMENSE HOTELS.
Ideology
As a hotel chain we pursuit to create indelible experiences. Our hotels hold an unequaled and astonishing design that in collaboration with our special gastronomical approach and incomparable personalized service, makes each and every single stay an authentic life experience.
We believe simple establishments to be uninteresting. That our customers take away from their sojourn a brand new concept of how life should be is what we feel impassioned about. From the spectacular room décor to the intricate flavor of the breakfast, we wish for our guests' stay with us to be filled with amazing occasions.
Sustainability and remaining local are two main axes over which our hotels are grounded. We are genuinely concerned about the environment, and we compromise with our community. Both of this elements firmly nurture our mission of entrusting the quintessence and aura of each destination where we are located.
At INMENSE HOTELS we change the lodging archetypes, ensuring the nascence of memorable experiences in extraordinary spaces.
Memorable Experiences
Hundreds of bells chime, and before the sensation of astonishment for a place unexplored by your eyes and senses makes full presence, you get momentarily apprehended to the bed by the sheets. Exquisitely you make yourself way to the window near you, and as soon as you open it, a fine breeze fills up the room and a fascinating food aroma is detected by your nose. Avidly, you search for the origin of the scent but seconds later you realize that it's part of the air and all along you've been enchanted by the landscape.
You are entirely besotted with the life of the place, you are living a memorable experience.
To have the satisfaction of creating moments like that, capable of becoming an introduction to a distinctive concept of life, is our specialty. We develop the perfect environment where, is thanks to our facilities, services, and attention that you will naturally live unconditionally the essence of a destiny.
We want for you to feel that you've gotten to know Cholula with just a taste of our version of cemitas, that whilst venturing to enter to the Casona Santosí, you travel far and across San Luis Potosi's History, or that, just by witnessing an unrepeateble dusk at Grand Las Nubes, you feel in each breath of fresh air the astounding nature intrinsic to San Miguel de Allende. In short, we aim for you to ascertain a brand new perspective on life, for you to then be able to fully live an unforgettable experience.
SCHEDULE
Of the beer lover
Do you remember that feeling, of a long and ice cold drink of beer after a day out under the sun? Exactly, like reaching nirvana.
In order to reproduce that exact feeling every time you return to Mala Vecindad, we have crafted a week worth of unmissable activities to do in Mexico City.
Day 1: Teotihuacan
In the morning: Exploring lost civilizations is not just for Indiana Jones. Teotihuacan is one of the most amazing archeological sites in the world. Walk along the Avenue of the Dead, climb the Pyramid of the Sun, ride a hot air balloon and be amazed by the site's beauty or crawl underground inside the secret tunnels.
In the afternoon: Come back to Mala Vecindad, sit down, put your feet up, drink a cold beer, rest and admire Mexico City's sunset feeling adventurous.
Day 2: Coyoacan
In the morning: Coyoacan is known for the illustrious residents of the neighborhood, such as artists and students, furmost for being Frida Kahlo and Diego Rivera's home; you can visit La Casa Azul and see some of Frida's art, her antique furniture, and vintage dresses. Once out, get lost in the streets, admire the colonial residencies and old-fashioned squares that greet you with balloon vendors, organ players, bootblacks, stewed and seasoned corn kernels stands and a variety of ice-cream shops. Coyoacan has restaurants, cantinas, boutique stores, Mexican handcrafts markets, and, did we mention cantinas?
In the afternoon: Come back to Mala Vecindad, sit down, put your feet up, drink a cold beer, rest and admire Mexico City's sunset feeling a little bit more artsy.
Day 3: Xochimilco
In the morning: A Cultural World Heritage Site, Xochimilco is an unmissable destination. Calmly float above the canals on a traditional trajinera, enjoy the unusual chinampa base landscape in which everything has been built on, and be entertained by the Mexican folklore. Sing with the mariachis, listen the marimba's sound, drink a beer or a glass of horchata water, and try some traditional snacks, we amply recommend the quesadillas with cheese.
In the afternoon: Come back to Mala Vecindad, sit down, put your feet up, drink a cold beer, rest and admire Mexico City's sunset feeling quenched.
Day 4: Museums.
In the morning: Mexico City is famously known for its museums, there is one for every taste. Contemporary art lovers will appreciate the likes of Museo Tamayo, Jumex, Museum of Modern Art, MUAC, La Casa Azul, and Franz Mayer. History buffs will be amazed by the National Anthropology Museum, Templo Mayor, or the Museum of Memory and Tolerance. You can find classic art at MUNAL, and El Estanquillo… well, you will have to see that one for yourself.
In the afternoon: Come back to Mala Vecindad, sit down, put your feet up, drink a cold beer, rest and admire Mexico City's sunset feeling brainy.
Day 5: Chapultepec.
In the morning: Spend some time in Chapultepec. For the casual stroller, it appears to just be a park. Granted, a great park with a lot of trees, benches, families enjoying a Sunday-like day, yoga classes, runners, a botanical garden, lakes, cultural centers, sports fields, activities, picnic tables, and even a castle. But Chapultepec is so much more than that, it's the cities lung, with the monumental task of cleaning, as much as possible, the megalopolis' air.
In the afternoon: Come back to Mala Vecindad, sit down, put your feet up, drink a cold beer, rest and admire Mexico City's sunset feeling a little bit more aired.
Day 6: Historic Center
In the morning: With it being so close to the hotel, how come you waited until day 6 to visit it? Start at Bellas Artes and there, if you have already recovered from the museum day, visit the permanent and temporal exhibits. Get to the top of the Latin American Tower and try to find Mala Vecindad. Walk along Madero Avenue, going on with the imposing flow of people doing their everyday business until you get to the Zocalo, where you can get up to the Cathedral's bell towers and rooftops. Visit (again, why not?) Templo Mayor, eat some basket tacos, and admire the murals at the Supreme National Justice Court. In the Historic Center, you will also find Diego Rivera Mural Museum, La Ópera Bar (with an authentic bullet hole by Pancho Villa and over 140 years of History told by its walls), the House of Tiles, the Popular Art Museum (yep, there are still more museums), Alameda Central… An entire day worth of activities just a few blocks away.
In the afternoon: Come back to Mala Vecindad, sit down, put your feet up, drink a cold beer, rest and admire Mexico City's sunset feeling a little bit more historic.
Day 7: Markets and bazaars.
In the morning: With almost as many as museums, Mexico City is famous for its markets and bazaars. The most adventurous will want to visit Sonora's Market, with an ample section devoted to witchcraft, esotericism, and healers. They sell herbs, animals, objects, candles… You can also visit San Juan's Market, specializing in traditional food, and by that, we mean ants, crickets, worms, bugs, armadillos, lizards, exotic fruits, and pre-Hispanic cuisine (very traditional). For the not-so-venturous, there's always bazaars such as Bazar del Sabado, where you will find earrings, candles, handcrafts, catrinas, books, jewelry, and some, normal yet delicious, snacks.
In the afternoon: Come back to Mala Vecindad, sit down, put your feet up, drink a cold beer, rest and admire Mexico City's sunset feeling a little bit more spent.
1. While staying at the hotel, the guest has the responsibility of having fun and drinking beer (the ideal is to have fun while drinking beer).
2. Under every circumstance, beer must replace any other unhealthy beverage such as water, juice, and milk.
3. Food is available at all times (and very tasty) however, it can be replaced by beer (ask to see our conversion chart).
4. While staying at the hotel, sleep is optional but drinking beer, mandatory.
5. Please remember the shower does NOT supply beer (we are working on it), just water.
6. If you want a good night sleep, you can request special pillows, aromatherapy, or drink beer (we recommend the latter).
7. Please do not recommend our hotel to your non-drinking friends (actually, maybe they aren't really your friends after all).
Many, reading the phrases in their own rooms, are curious about the other signs. We publish here the full gallery because we wouldn't want you to leave not knowing, or worse, to try entering someone's rooms to read the walls. Remember, they are copyright of the planet, not to be reproduced in outer space or other dimensions.
1. A beer a day keeps the doctor away.
2. El respeto a la cerveza ajena es la paz.
3. Con cerveza no hay tristeza.
4. Keep calm and drink beer.
5. Ser o no ser, esa es la cuestión, ser o no cerveza, esa es la cuestión.
6. Life is too short for bad beer.
7. El alcohol de la cerveza no mata neuronas, las libera
8. Too Beer or not to beer.
9. Beer contains almost all of the minerals we need to survive, which is why I drink beer… every day.
10. You can't buy happiness but you can buy beer and that's kind of the same thing.
11. Good people drink good beer.
12. La mente clara y la cerveza oscura.
13. Wish you were beer.
14. Fresh craft beer bring the cheer
15. Save water drink beer.
We are pleased to introduce Primus, the guest of honor.
As the legend tells, Primus was named after the King of beer itself. Jan Primus was crowned after moving, by himself, an enormous wood barrel full of beer. Many had tried without succeeding until Primus, as clever as he was (some say he had Mexican blood), came up with a better solution: to drink the beer first and to move the keg later.
And what a life! Primus brewery once belonged to the one and only Walter Payton, "Sweetness" as he was known in the NFL.
But it wasn't always beer-y easy. The Mexican beer market was a known duopoly, so Primus had to fight to find a place. A battle as epic as David against two Goliaths. However, the drive was strong, they were fighting for all Mexican's (over the drinking age) universal and non-exclusive right to beer. Meaning, they were pursuing the democratization of beer.
Finally, victory came. And now, small independent breweries have a better opportunity to grow and reach new bellies.
Cheers, to free will, to the democratization of the marketplace, and trying new things! Cheers to Primus! Long live the King!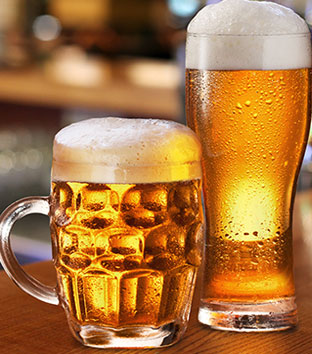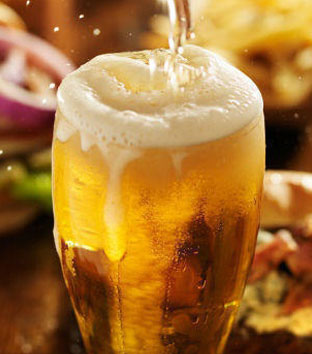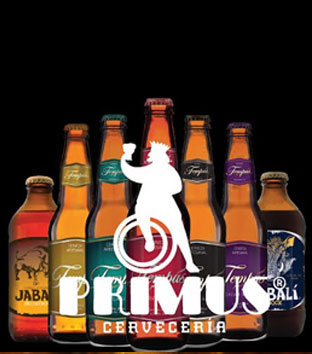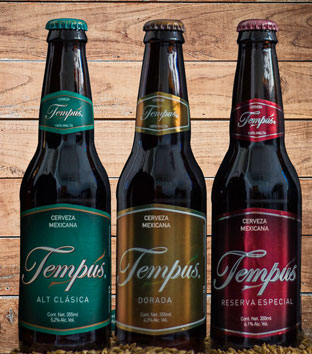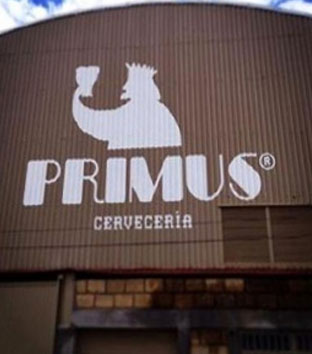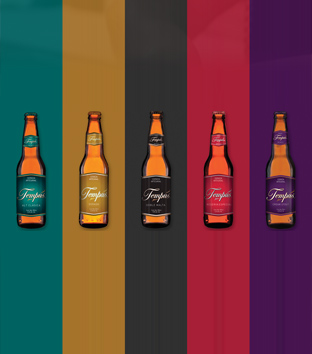 Reservation Policies
1. Reservations and payments: For stays of one night you must pay the total bill of the stay, for two nights you must pay 50% of the stay. In case the guest does not show up at the hotel at 12:00 p.m. the day after the start of their reservation and there is no notification from them, the right to use the hotel will be lost without the right to a refund.
2. Reservations and payments on dates considered Premium and Premium Plus Season: (dates according to the official rate) the guest must cover the total amount of the reservation. The exchange rate used will be the one designated by the hotel at the time of payment. The holder of the card with which the reservation was made must be present at check-in, sign the vouchers and show an official identification. If the card of an absent person is being used at the time of check-in, you must provide any other means of payment, both for the charges made in guarantee and for the charges that complete the payment of your reservation.
3. Our Hotels are 100% free of smoke, Smoking is strictly forbidden in our facilities.
4. Billing: If a client requires a bill, he can request it at the following website: http://www.inmensehotels.com/facturas , and it will be sent via email. Billing can only be done during the month currently in progress.
5. Hotel Policies:
• Check-in 3:00 p.m.
• Check-out 12:00 p.m.
6. Occupancy: There is a maximum amount of 2 children under the age of twelve staying free of charge per room with no additional cost. Children over the age of twelve will be charged as an extra person. In both scenarios, only of the occupancy allows it.
Social Commitment
Saving the world